Timothy E. Hermann
Ameren Missouri Site Vice President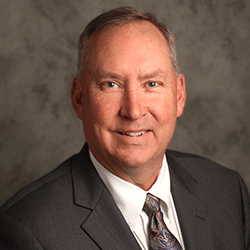 Timothy E. Herrmann is site vice president for Ameren Missouri. In this role, he is responsible for the safe operation of the Callaway Energy Center.
Timothy E. Herrmann was named site vice president, Ameren Missouri, in November 2015. In this role, he is responsible for the safe operation of the Callaway Energy Center.
Herrmann joined AmerenUE in 1981 as an assistant engineer in the Nuclear Licensing group. He later served as an engineer in construction completion, startup testing, safety analysis, and mechanical design. Herrmann was promoted to supervising engineer in 1988. He held various supervisory positions in each of the engineering departments at Callaway. He became manager, Engineering Services in 2004. In this position, he oversaw the Steam Generator Replacement and Turbine Rotor Replacement projects. In January 2006 he became vice president, Engineering, a position he held until July 2009. He served as chief engineer for the ENEC program from July 2009 until March 2013 and then acted as principal project engineer working on MAGNOX and SONGS decommissioning efforts until September 2014. In September of 2014 he returned to Callaway Energy Center as vice president, Engineering, overseeing the plant engineering and major projects areas.
A native of Rochelle, IL, Herrmann holds a bachelor's degree in nuclear engineering from the University of Missouri-Rolla. He is a member of the National Society of Professional Engineers and the Missouri Society of Professional Engineers. He has served as the Westinghouse Owners Group Materials Subcommittee Chairman, and as member of the Electric Power Research Institute, Nuclear Power Council. Herrmann is a member of Concord Baptist Church in Jefferson City where he and his family now reside.