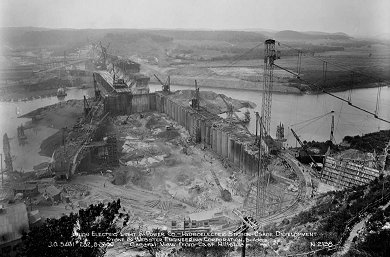 Bagnell Dam History
In 1912, Ralph W. Street of Kansas City first proposed damming the Osage River to generate electricity. However, it wasn't until 1924 that Street and Walter Cravens, also of Kansas City, arranged financing and formed the Missouri Hydro-Electric Power Company.
The company began building roads, housing, an administration building, mess hall and other facilities needed to support construction of a dam near the tiny town of Bagnell. However, financial difficulties brought the project to a halt in 1926.
On July 27, 1929, Union Electric Company of St. Louis (now known as Ameren Missouri) purchased the facilities, and construction resumed on August 6. The New York Stock Exchange "crashed" two months later, bringing on the Great Depression, but work on the project continued. It became the only major construction project in the nation at the time, attracting thousands of workers from all over the country.
Records show more than 20,000 people worked on the project at one time or another. Although there were some steam shovels and other powered equipment, most labor was done by hand. Pay rates for construction workers were as low as 35 cents an hour. But during the Depression era, when a person could be hired for farm work for 50 cents a day, workers were glad to make the hourly wage.
The project was truly massive. Nearly 60,000 acres of land had to be acquired, and about 30,000 acres cleared of trees and brush. One million cubic yards of earth and rock had to be moved. Enough concrete was poured to build an 18-foot-wide highway from St. Louis to Topeka, Kansas. Enough carloads of material were used in the dam to fill a freight train stretching from St. Louis to Tulsa, Oklahoma.
Construction was completed two years after work began. Commercial operation of the Osage Power Plant began October 16, 1931.
At the time, Bagnell Dam was truly an engineering marvel, and dignitaries from all over the country and the world came to see it. Engineers proudly predicted the amount of electricity the Osage Power Plant would generate in future years, but no one dreamed of the millions of hours of recreation, Lake of the Ozarks would provide for tourists, local residents and second homeowners. Upgrades to the Bagnell Dam will enable it to continue to provide clean energy for the next 100 years.